With 34 percent of the U.S. workforce now involved in some form of freelance work, creatives are undoubtedly wondering: How can I beat out the competition?
Marketplace recruitment teams must sort through hundreds of profiles to find the right matches for each opportunity — they must use specific criteria and rigorous standards to cut through all the clutter and find the matches they're looking for.
Why online portfolios are a big deal in freelance marketplaces
Online portfolios are versatile applications that freelance marketplaces (and clients) use to determine if someone is qualified for a job. When a creative's body of work is missing even one crucial element, there's a good chance they will be cast aside during this search process.
We've put together all of our professional insights over here at Skyword to give you a detailed outline of the essential things you will need to create the best online portfolio for your specific industry — whether writing, photography, video, or graphic design.

The best online portfolio for freelance writers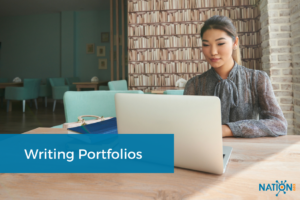 Freelance writers play a very important role in the gig economy, particularly by creating original content that connects with a target audience and effectively relays a brand's purpose.
With the importance of this mission, they need exceptional online portfolios to set themselves apart. When a client seeks a new contributor to craft a story for their brand, they need to see that the writer understands how to properly tell their own story through their online portfolio.
After all, if you can't convey the merit of your own brand through your work, how will clients be able to trust you with theirs?
It's worthwhile ensuring that your portfolio reflects the following:
Ultimate professionalism
Writing professionally requires a mind that challenges the status quo and presents concepts in unique ways. This creative trait typically plays to a writer's favor, but it can also be a liability if taken too far.
When you are creating an online writing portfolio, remember that every element — from headshot, font, website name to social handle — should express a personal brand image and showcase a high level of professionalism. Consider yourself an extension of an enterprise-level company that requires attention to every detail.
Defined niche
Companies are getting particular about choosing their ideal storytellers. In some cases where clients don't require an extensive writing portfolio of industry-aligned samples, they instead seek out practitioners — individuals who live and breathe in a specific space.
Brands want authenticity and they want assurance that the stories they produce will truly resonate with their target audiences. For this reason, the majority of companies request subject matter experts and avoid generalists who boast an ability to cover a variety of topics, but none in great detail. They want prolific writers with authoritative bios and industry experience that goes beyond what anyone can learn through a day's research.
Not sure if you're a subject matter expert? Fake it 'til you make it.
Launch a blog that explores the latest industry trends and embrace your own thought leadership. Cull your colorful portfolio to highlight articles that fall within the identified space.

Representative samples
Defining your niche with a strong bio shows the client you can talk the talk, but adding a variety of samples that flesh out your areas of expertise demonstrates that you're an experienced writer in the space.
Quality and quantity go hand-in-hand — bylines featured in reputable magazines, websites and industry publications make for the best online portfolios in this area. Reputable samples not only showcase the ability to write to a specific journalistic standard and topic, but also that a company was willing to associate your name with their brand.
Don't be discouraged if you don't have a recently published TechTarget or Time Magazine article — understandably, that takes time and networking. Continue to post regularly as an expert on your own blog and others until the opportunities arise.
Strong and discerning social presence
A significant following and strong presence on social media isn't a must for every client, but it's a competitive edge that keeps writers on top of their game. Clients love to see contributors share their latest articles and engage in social conversations tied to their brand.
Pro tip: Avoid adding social handles to online portfolios unless you plan on devoting the time to keeping them current, professional, and relevant. You won't reach social influencer status overnight, but by engaging with others and sharing content that's relevant to your niche, you add one extra selling point to your online portfolio.
The Pitfalls: If you think your writing portfolio is in good shape, at least take the time to double-check that your spelling and grammar are flawless and that all of your links work. You want to make it as easy as possible for recruiters to review your writing samples.
And don't necessarily settle for one universal document — you may need tailored online portfolios to position you effectively for different marketplaces.
Related reading: 12 Best Online Marketplaces for Independent Consulting Jobs (Revised and Updated)
Picture-perfect online portfolios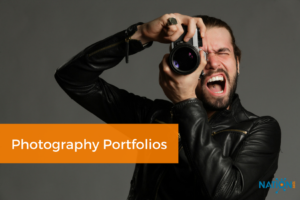 With the popularity and accessibility of cheap, high-quality equipment for still photography, there are more professional photographers around than ever before. Standards are high and so is the competition.
Making sure you are diversified, professional and artistically unique with your photography is arguably a bigger challenge than in any other creative medium. As they say, "a picture has the value of a thousand words, if not more."
Unique angles and color grading
Much to the bewildered dismay of professional photographers (and the advantage of many budding up-and-comers), Instagram has changed the way talent is found and vetted.
A photographer with a good eye will take note of interesting viewpoints and color grading. It's easy to shoot from a trendy, but overdone perspective and throw an Insta-filter onto an image — but using your own style of color grading and setting up unique, sensible angles for your shots will do wonders to set you apart.
Clients take notice when a photographer couples a distinctive style with a consistent look in multiple lighting settings and locations. Your online portfolio, as with any image you can lay claim to, should show the world from your eyes — unless otherwise agreed upon.
Versatility
With many wonderful wedding photographers out there, the bliss of matrimony can be captured in an unforgettable and truly beautiful way. But not every situation should be shot with the mentality of a wedding ceremony.
Demonstrating your versatility is necessary for creating your best online portfolio. Make sure to showcasing a wide variety of photos, including:
Product shots
Portraits
Architecture
Studio freestyles
Anything that makes you unforgettable
This diversity will allow you to claim a much wider array of gigs.
The Pitfalls: Make sure your portfolio is easily navigable by organizing your different shot varieties by topic or style.
If you must have watermarks on your photography, then make them clean, small and subtle, rather than the massive, gaudy logos we often see. Those "handwriting fonts" will also distract your audience from what you're trying to showcase.
The "two-thumbs-up" video portfolio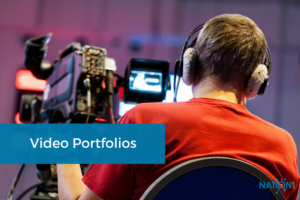 Some people think videography is as simple as pointing and shooting. But now, more than ever before, telling stories through video is a great unknown — and in the best way possible.
It's up to the creative to lay the groundwork for unique video content that gets brands noticed, which means showcasing a creative eye, a solid foundation, and a genuine vision for their work in all of their online portfolios.
Style basics
As with with any profession that requires a unique skill set, creating quality video content requires a sound understanding of "the basics." The subconscious eye of the viewer is the conscious eye of the videographer — and, ultimately, the client.
Reels must showcase smooth motion and clear image quality. Professional color grading is also very important and in many cases distinguishes high-quality video from lackluster bunk.
When videographers have comparable skill sets, the ability to tell a story makes the creative stand out. With the combination of investment in the right software and plugin bundles (be sure to let recruiters know if you have this), a professional-grade camera, and clear attention to detail for on-set production, a videographer becomes a commodity for most any client.
Cohesive narrative
Simply put, to take video is to tell a story.
The right 30-second visualization of a flower blowing in the wind can be more effective than an entire three-and-a-half hour epic film about space travel. Your reel must showcase a variety of your best work, but it's also important to show specific examples that tell concrete stories from beginning to end.
Unless a client is extremely open minded and looking for surreal, outside-of-the-box adventures, leave your wildest content for them to find via research and, instead, put your best, most well-rounded foot forward. Tailoring your level of experimentation to a client's brand is a very important consideration.
The Pitfalls: Poor color grading may go unnoticed and not concern lower-level productions, but it sets a bad precedent. Shaky camera work also raises serious concerns if not used for stylistic purposes.
Poor editing and bad timing must be avoided at all costs — particularly where sound is concerned. Many videographers underestimate the importance of this element. Watching television with grainy video is annoying, but doable. Viewing perfect picture quality with static-y, low-quality audio? Almost unbearable.
The best online portfolio for graphic designers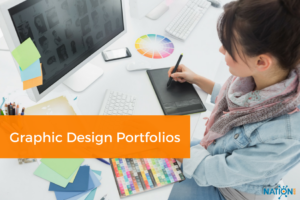 Brands understand the power of eye-catching graphics more than any other enhanced content medium. Infographics, illustrations and other effective visual components go hand-in-hand with well-written articles.
Designers can be tasked with a wide variety of projects and must be able to stand out in a sea of unique styles with more than just a good drawing hand. Honing your best online portfolio is a great way to do just that.
Online portfolios in the graphic design realm need to demonstrate these important competencies:
Lightning-fast turnaround
Freelance creatives are often up against well-oiled agency machines and it can be challenging for them to capture work when companies with high-level animators and designers are the norm for many businesses.
Make sure it's clear in your online portfolio that you work well under pressure and have a quick turnaround time. Pointing out how long a piece took you to complete will add an extra level of intrigue, especially if it was particularly short.
Technical capabilities
It's vital to show you can work effectively within a number of distinct styles, via whichever animation or design medium you use.
If your hand-drawn work is good, make sure it translates into a complex build file online. Point out in your portfolio that you can provide multiple versions of different build files to a client and accommodate them with high-quality work in as many ways as possible.
In addition, highlight which software programs you own and are proficient in — the more the better.
The Pitfalls: Variety is key for a design portfolio. Too much repetition gives the sense that designers haven't mastered different styles.
Show that you can work within a brand's guidelines, but express your openness to putting your own spin on your designs when asked. If you cannot do this, you are just like everyone else.
Online portfolios are opportunities to shine
Regardless of your creative path, there are constants that every effective online portfolio should feature.
If you truly have the talent clients are seeking and you showcase it in a professional manner, it's likely that your portfolio will serve as a gateway to many new opportunities.
If you're still concerned that your online portfolios aren't up to par, consider asking a third party (or a brutally honest friend) to critically review them before publishing. Convincing yourself that everything looks great is easy, but pushing yourself beyond your comfort zone challenges your thinking and buffs out overlooked flaws.
Editor's Note: This article was a collaboration between four members of Skyword's Creative and Community Management Team: Lauren DiZazzo, Molly Berry, Tom Sanford and Colin Eldridge.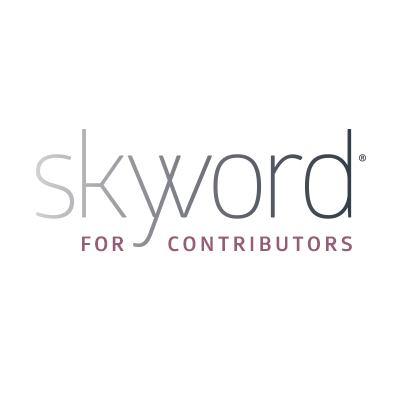 The Skyword Community Management & Creative Desk
Skyword's Creative and Community Management teams work closely with a wide variety of freelancers, including writers, designers, videographers, and photographers from around the world. Using the Skyword Platform, the teams engage freelancers, connecting them with the top-tier brands to create breakthrough stories.