Last year, Accenture look at the state of the workforce and independent consulting  and found that 85% of business executives intend to expand their use of freelancers in 2017.
As more niche professionals leave traditional salaried jobs for the bright horizons of the gig economy, they need help navigating the complex nuances of the independent consulting and growing their client base.
We recently published a comprehensive list of freelance websites that independents can use to find high quality projects and felt that it would be helpful to develop a similar resource for sites that specialize in matching consultants with companies that need their services.


The best independent consulting marketplaces
These unique marketplaces for freelance consultants are great places to start your exploration and help you better diversify your income and professional network in the next year.
We might say, "these are websites you'll really want to consult with — "
Okay, no more bad jokes . . . onto the apps.
  "Toptal for consultants"
You'll find a fairly traditional independent consulting platform in SpareHire — albeit a picky one. As another addition to the ever-popular "elite talent market," SpareHire works much like Toptal, but for investment bankers, managerial consultants, and private equity, venture capital, and corporate development specialists. The competition is high, but the projects are lucrative and the clientele (which the marketplace keeps proprietary) is note-worthy. 
If you have at least two years of experience in one of the aforementioned fields and some strong resume items, consider throwing your name in the hat.
SpareHire's commission is 25 percent on contract projects and 15 percent on first year's salary for full-time roles.
  "The actual Toptal for consultants"
If you've paid even passing attention to the recent trends of the project market, you've undoubtedly seen Toptal referenced repeatedly as an industry leader. The acclaimed freelance job board, noted for taking only the top 3 percent of international talent in design and development fields, now also services independent consulting professionals.
If you are a freelance pricing consultant, financial modeling consultant, or finance specialist of some kind, you should strongly consider applying to Toptal's growing talent pool. The company's prestige and notoriety is only continuing to grow and the quality of their clientele speaks for itself (AirBnb, the Onion, and The Cleveland Cavaliers just to name a few).
  "A great place to start"
Carrot is a "pay-as-you-go" micro consulting app that connects consultants with people seeking expertise. You set your per-minute rate (can be free to start, or as much as you'd like to charge), Carrot assesses your level of expertise, and you begin video consulting with curious individuals and potential clients.
Carrot taps into the "knowledge on-demand" appeal of forums like Quora, but streamlines the flow of information into live, 1-on-1 consultations that buyers and sellers alike can satisfy their curiosities with.
There is also a prominent social dimension to the app which lends itself very nicely to some free and effective networking. Carrot encourages users on both ends to communicate directly via their Twitter profiles, which are accessible within the app's dashboard. Its video chat function essentially allows it to fill the video communication void in Twitter's strictly text format.
  "Elite Talent and Long-term Placements"
Expert360 is an extreme talent board that places consultants from a wide range of disciplines in high-demand roles for companies like Virgin, Ebay, and Coca-Cola.
Payments are handled directly by Expert360's clients and, while they do charge a 15-20 percent placement fee, this is handled by the client and not deducted from the freelancer's pay (which can be anywhere from $500-5000 a day).
Another perk for consultants looking to secure longer-term roles is that the platform also facilitates permanent hires with 15 percent commission taken on the first year's salary.
Expert360 offers project placement services for independent consulting talent in business strategy, HR, marketing, deal advisory, finance, sales & operations, and technology.
 "The veteran project board with cool resources"
Talmix is a relatively long-standing independent consulting marketplace that connects experienced advisors in a wide variety of fields and disciplines with exciting gig prospects.
The platform looks for many of the quality indicators premier project boards typically use to gauge fit (5+ years of experience, numerous client testimonials, a proven track record of results). But it also offers some special resources to help freelance consultants make their professional lives and use of the platform easier, like proposal writing guides and marketing video tutorials.
Some of Talmix's big clients include Pfizer, Unit4 and Staples.

 "Independent consulting gigs, events, and networking"
Flexy is a closed community and job board for independent consulting professionals in IT, management, services, creative work, coaching and subject expertise.
The board has a slick and easily navigable interface and offers users a wide array of perks like entrée into professional networking events and online relationship building. It also boasts a rather modest service fee of 10 percent on gigs it successfully pairs with users.
The caveat (and a good caveat at that) is that Flexy is a bit picky about the consultants it approves as members.
  "For outstanding high achievers"
Mindbench is a consultant recruiting platform with a strong presence in Europe and a growing reputation in the U.S. They specialize in management consulting and offer placements for strategy, supply chain, operational improvement, change management and IT consultants.
In addition to servicing a variety of boutique firms, Mindbench recruits for "The Big 4," which includes Deloitte, Ernst & Young, KPMG, and PwC.
The project application process works similarly to that of many standard job boards — you search for a position in your field that interests you and apply by emailing a project's designated contact.
The company offers both interim and permanent positions and has received some notable accolades from industry presences like Top-Consultant.
  "The standard consulting marketplace"
Need some clarity in your independent consulting career?  Okay, I mean it — no more puns.
Clarity is Startups.co's consulting marketplace and learning platform. If there are further parallels to draw between independent consulting and freelance marketplaces, you might think of Clarity as Upwork's counterpart — a longstanding, open-to-everyone, charge/bid what-you-want community. There is also quite a bit of competition, but plenty of consulting to be done.
As with the similarly, user-friendly Carrot, Clarity allows "experts" to create profiles and sell their consulting services at a by-the-minute rate that they control. The marketplace takes a 15 percent commission on whatever that number is for each e-consult.
Clarity is straightforward and easy to get started with. If you're looking to get going selling your knowledge right away, the answer is clear. . . 
 "The Fortune-approved consulting market"
Another high-end consulting app and marketplace, but with an interesting twist: Talent Exchange is actually PricewaterhouseCoopers' new flex staffing program. PwC was ranked number 53 on Fortune's 2016 Best Companies to Work For list and their project-based platform offers some similarly sweet perks, but via the "work from your iPad" convenience of the gig economy.
One reason Talent Exchange is so interesting is that it marks one of the first examples of a company effectively turning itself into a competitive marketplace. Consultants apply for high-demand roles in quality control, salesforce administration and a number of other analytical positions and PwC's HR team sends compatible projects to them to claim.
Talent Exchange is still technically in Beta so many of the specific "focus areas" the marketplace will ultimately parse out are not fully organized yet, but it seems the updates are well on the way.
According to Miles Everson, leader of PwC US Advisory, the company ultimately intends to have about 10 percent of their workforce participate as flex consultants.
  "The marketing consultant's job board"
In the same way "freelancing" can mean a million-and-one things, the same can be said of independent consulting, and for this reason we're also seeing a greater number of industry-specialized project boards popping up for consultants.
Credo corners the search engine and content marketing sectors of the gig economy. Consultants in a wide range of fields — content, paid search, link-building, email marketing, social media, and technical SEO — will find a large selection of opportunities suited to their talents, and even preferred industries (travel, law, e-commerce, real estate, and local business).
Credo was founded by SEO specialist and consultant John Doherty and carries the heavy endorsement of Moz-founder Rand Fishkin.
  
"Options for consultants of many experience levels"
The extreme talent ethos is a novel idea and a good way to create talent markets that pay well and deliver on their promises. However, as they will tell you upfront –they aren't for everyone, and frankly their solutions aren't right for businesses of all sizes.
This is where Catalant and HourlyNerd come in. Rather than focusing exclusively on top tier talent or creating an "everybody welcome" free-for-all, Catalant created a supreme talent platform for their high end clients and a consulting marketplace geared to the needs of small and midsize businesses and up-and-coming talents.
As you might have guessed, Catalant is the premium market and Hourly Nerd is the small and midsize talent pool.
Both platforms use the familiar project bid system that many standard job boards also employ, so strategically, the same principles apply here — remember that a higher bid isn't necessarily a liability as it also conveys value.

Remote consulting roles versus on-premises work
Independent consulting jobs take on many forms and the actual places where this work is done can vary radically from project to project.
As with work outside of these marketplaces, you'll find clients who you'll never actually meet beyond the Skype window, and others who will insist upon your physical presence in their workplaces.
If keeping your work arrangement completely flexible is a top priority for you, make sure that you seek out roles that allow you to maintain this lifestyle.
By the same token, great opportunities take on many forms — if you see a role that truly speaks to your interests and career priorities that isn't remote, don't be so quick to write it off. As long as you are not signing on for a long-term position, you have the ability to experiment. I recommend you take full advantage of this ability.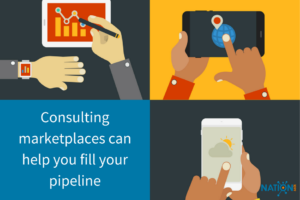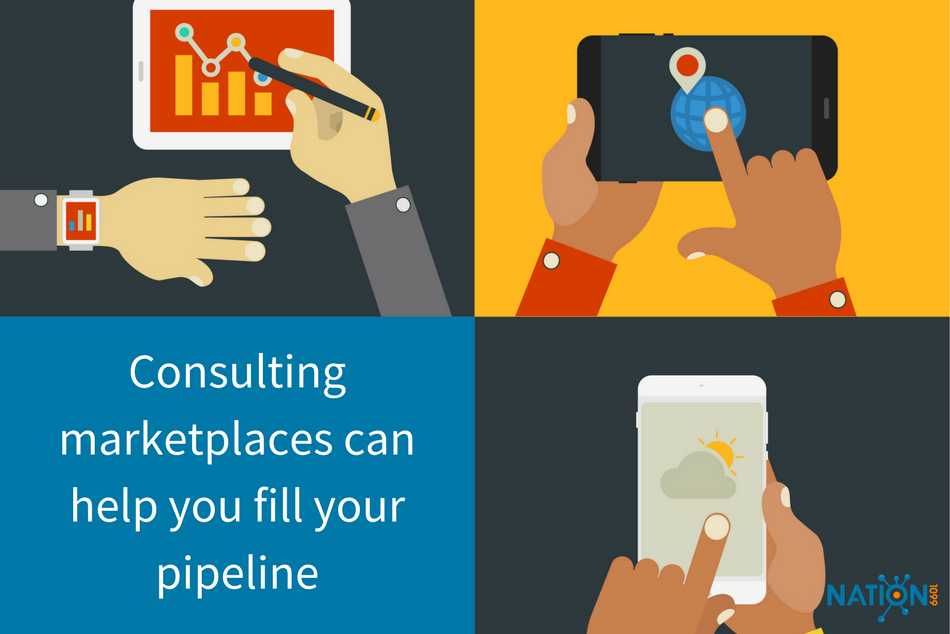 Independent consulting boards: intended to supplement, not sustain
I'll state the obvious — independent consulting apps and marketplaces are intended to supplement careers, not sustain them.
These platforms offer newer consultants a chance to grow their resumes or bolster their income during slower periods. They also give established consultants some potentially lucrative opportunities to increase the value of their brands and make exciting new connections that can sometimes result in full-time or recurring positions.
However, as I'll say again, marketplaces are not intended to replace good old fashioned outreach or self-promotion — they're like vitamins for your career — it's healthy to take some, but you wouldn't want to live off of them . . . would you?
Have you experienced any of these marketplaces for yourself? Do you have any advice you'd like to share about them? Let us know in the comment section below!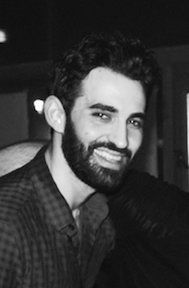 Ben Shanbrom is a freelance writer, musician, and copy editor who works with artists and clients within his native New Haven scene and well beyond (ask him about tracking drums in the studio where Europe recorded "The Final Countdown"). Ben is a tried and true "coffee rings on his notepad" freelancer, and wouldn't have it any other way.