We dig into a lot of big picture topics on Nation1099 — things that we can work on over time to make our businesses and lives better. But there are also some pretty quick things we can set up that allow us to "work smart," not just hard. In this post we will explore some of our favorite lifehacks for freelancers that will help you do just that!
Few things are more miserable than that sinking feeling of realizing you sent an email to the wrong person . . . or you forgot to prep for a big deadline . . . or perhaps you lost an important business card. It's the feeling that you did something foolhardy in a flurry of a hundred every day responsibilities and that, for all the things you may have done right, your late day foible will be the thing your client actually notices . . .
There is hope though! Without further ado — Nation1099's favorite lifehacks that can guard against such moments:
Undo send
Hallelujah. I can't even begin to count the number of times this feature has saved me from "4 P.M. Dangerous Email Syndrome." My name for this phenomenon probably tells you everything you need to know about it. Blood sugar or caffeine levels fall, tedium sets in — you want to be done with your to-do list but your potential for human error is also at its highest.
Related: Is Your Email Etiquette Lousy? Shape It Up!
Fortunately, Google finally understands that anyone is susceptible to an email gaffe and doesn't necessarily deserve a life sentence for it. The undo send feature is a must for any professional who has to navigate the world of email (which I believe is everyone . . . ).
Lance Whitney of CNET cooked up a really speedy tutorial on this feature that I honestly found a lot more helpful than Gmail's own instruction page. To reap the maximum benefit of this feature, set your time window to 30 seconds — in my experience, you instantaneously get a nagging a feeling that something isn't quite right, but it takes between 5 and 15 seconds to realize, "Ahh! I just sent that!" And then it takes a few more seconds for your brain to go, "Didn't I set up some kind of undo send feature? What . . . oh, here it is. Right in front of me."
This gives you the proper time frame to re-evaluate your email autopilot and make the necessary changes before your client has the chance to cringe.
Grammarly app
The era of infinite and permanent communication is a little unfair — if we need to exist in a world where technology immortalizes all messaging and can even open fairly sensitive communications to public scrutiny, it's only fair that we each get our own personal editor to help us manage all of this nonsense.
While this probably isn't possible in a literal sense (unless you have the world's nicest roommate), the Grammarly app can definitely help you out.
This free Chrome extension is spell-check if it took better initiative. Many of us have learned the hard way that just running regular-old spellcheck after we've cranked out an email draft or document can let a lot of bad stuff slip through the cracks.
Grammarly goes beyond spelling and checks for 250 grammar and syntax errors and it actually bases its corrections on the context of your writing, instead of your words in isolation. While the app is primarily marketed towards writers, just about anyone stands to benefit from this additional set of eyes.
Reminder apps
There are a ton of scheduling apps out there but they won't help you if you don't actually use them . . . and I am certainly one to talk as a stubborn "mental note-taker." While I still believe writing to-do's down is the most effective way to etch them into your conscious mind, I can swallow my pride and admit that some help in this area certainly doesn't hurt. Reminder apps are definitely one of the highest priority lifehacks for solopreneurs.
You won't have any difficulty finding a bevy of options in this niche but Wunderlist in particular is an app I've really grown to enjoy. For comprehensiveness, it's hard to beat. Wunderlist syncs your to-do list across multiple devices, helps you break tasks down into manageable subtasks, and the organization of it is fabulous — no little to-do will sneak by you!
A lot has also been made of the app's oddly rewarding "ding" sound it makes when you finish a task. If you are curious about why this sound is so soothing and happen to be taking a break between your pomodoros, check out this really cool article UK freelance sound editor Alex Kontis wrote for Medium about the psychology of this effect.
Related topic: The Freelancer's Guide to Time Management
Business card scanners
For however much some of us might resist the idea, the fact is that the world around us is undergoing a massive shift away from physical media. Whether we're talking about music consumption or even currency — all signs point toward the digital end.
And yet, there is still something about classic business cards that we cannot quite bring ourselves to part with. Prospective clients still ask for them and having one is still viewed by many as a sign of professionalism. Unfortunately, with everything we now store on our smartphones and laptops, our ability to hold onto a lot of little things in the real world is at an all-time low.
Liz Murphy, content manager for Annapolis-based marketing firm Quitain brought CamCard to my attention via a post she recently made on business card storage. This app is another winner. It scans cards directly into your phone and adds the information they contain to new contacts it automatically creates on your iPhone or Android device. One of the most essential networking lifehacks, and a great way to "not screw up" with a new contact!
Other lifehacks for freelancers
As the gig economy grows, so do the tools available to keep us indis thriving within it. We at Nation1099 will continue to share some of our favorites, but we'd also love to hear what tools for solopreneurs you can't live without! Comment below or contact us to contribute an article about how you're navigating your day-to-day complexities.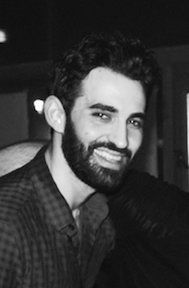 Ben Shanbrom is a freelance writer, musician, and copy editor who works with artists and clients within his native New Haven scene and well beyond (ask him about tracking drums in the studio where Europe recorded "The Final Countdown"). Ben is a tried and true "coffee rings on his notepad" freelancer, and wouldn't have it any other way.