As you build your consulting practice, establishing partnerships with other consultants is an effective approach to getting more client work and has multiple benefits. This is an approach I call partnership consulting.
In short, partnership consulting is working another independent contractor or a consulting firm on an ongoing engagement or series of single engagements where you provide your expertise to their consulting clients.
Your services are usually provided on a subcontractor basis where the lead (or prime) consultant or firm identifies and manages the relationship. The lead consultant or firm pays you instead of the client.
Partnership consulting allows the lead consultant to offer a broader range of expertise to their clients by bringing your strengths to the project, while keeping their administrative costs low by not having you on their payroll.
Related reading: Subcontractor Agreement Templates for Consultants and Freelancers
The advantages of partnership consulting
Partnership consulting allows you as the subcontractor to:
find new projects if business development is not your forte;

keep your project roster full and have multiple streams of income to supplement your direct client relationships;

have the opportunity to work on different kinds of projects with different types of organizations;

build your expertise in new areas of your profession.
Two structures for consulting partnerships
In my work as a performance and learning consultant, I currently have three partnerships in effect with consulting firms of varying size. These firms work with other HR pros who are either W-2 employees or 1099 consultants. (If you want a refresher on the difference between the two categories of workers, click here.)
Each of these relationship works differently, but they can be understood as either of two basic structures.
1. Partnership with an established firm that utilizes W-2 and 1099 employees
Two of my partnerships are with firms structured in this manner. My longest relationship is with a firm that has offered human resources consulting services for over a decade, and we've worked together almost since the start of her business. The owner has five employees (including herself) and another 20-25 consultants who work with her in various capacities.
My work with her clients has ranged from designing professional development programs to reviewing employee benefit programs for competitiveness. My primary consulting work with her firm is the design and implementation of compensation programs, an expertise she doesn't have in her organization. (We'll talk more later about the importance of the expertise you bring to the partnership.)
The other firm where I have a partnership consulting relationship has only one W-2 employee on the payroll and use 1099 consultants for the remainder of her engagements. This firm has been in business over 30 years but is smaller in scope than other firms where I have partnership consulting roles because of the type of clientele she pursues.
2. Partnership with a consulting firm that only uses 1099 employees
My third client where I have this kind of partnership consulting role is with a management consulting firm owned equally by three individuals. They each decide if they want to engage other professionals to assist them with their portfolio of work.
They refer to these partnership consulting relationships roles as "associates," i.e., independent consultants who either have their own consulting firms or are sole proprietors.
This relationship varies in the way the engagements are structured. In some instances, I am doing the work under the name of the firm; in other instances, they refer work to me and I have a new and direct relationship with the client.
Pros of partnership consulting relationships
You can think of the advantages of partnering with a lead consultant or firm as falling into two buckets — good for your business and good for the work you are doing, which is, of course, good for business.
Pro #1: Lots of work you don't have to find
Overall, partnering with other consulting firms keeps me focused on doing the work versus finding the work.
In some instances, I am asked to write a portion of the proposal based on how I would approach the work. I also participate in presentation meetings and calls where we learn more about the client's need and talk to them about how we would approach completion of the project if selected.
Pro #2: Direct access to the client and lots of latitude
Once the work is won, I engage directly with the client as the project manager and subject matter expert. I work with the client to refine the scope of work, milestones and deadlines and use my expertise to execute the various activities associated with the project.
This arrangement affords me flexibility and allows me to showcase my expertise directly with the client.
When issues of time and scope arise, I redirect the client back to my partner consultant for resolution and take guidance from my partner as to whether I should continue or if the original scope should be revised.
Cons of partnership consulting relationships
Like any relationship, partnership consulting can present some challenges. Let's explore the most common drawbacks and talk about how to avoid or resolve them.
Con #1 — Disagreements about consulting fees
I've found in some limited instances that the lead consultant wants to propose fees for themselves — and therefore for me — at lower rates than I would have. This issues is largely driven by the markets in which my partner consultant does work, what kind of reputation they have as consultants and what they intend their margins to be. But, surprisingly, this is also driven by what they think their own services are worth.
As I have been a consultant for almost 15 years, my skills are very valuable in the marketplace and I think should command a certain rate, even in a partnership consulting scenario.
Every partner doesn't always agree with my logic, and it's at that point where you have a decision to make: "Do I take the lower fee or do I take a pass on this opportunity?"
Related reading: Getting the Freelance Rate You Deserve
Bottom line: You most likely will earn a lower fee in a partnership consulting arrangement, because the sum of your rate plus your partner's margin shouldn't add up to "sticker shock" for the client!
But the silver lining in these relationships is you've got work you didn't have to find. The saved energy of the business development/sales effort alone is worth the lower fee in my opinion.
Whether this reality has a diminishing return for you over time will be influenced by how timely you're paid, which brings me to the next issue . . .
Con #2 — Slow payment
In most instances, unless your partner consultant's operation is a large one, you get paid when they get paid, which can mean delays. Most emerging firms are managing their cash flow closely.
However, one way to mitigate payment delays from your consulting partner is to agree to a retainer at contract execution. This approach allows your partner consultant to request the same of the client, so that funds are available to pay you as the project gets underway. That way you are getting steady periodic (usually monthly) payments at a minimum level.
Related reading: The Beginner's Guide To Getting Upfront Payment From Freelance Clients
Subsequent payments can be tied to completion of work milestones in the project plan. Ideally, you'll want to structure those follow-up payments in way that are tied to your delivery of the work, versus the client's response to it. Make sure that your statement of work or consulting contract defines what counts as delivered. This approach keeps you from being in a holding pattern while the client takes their sweet time responding to your work product.
Related to how you are paid is the frequency in which you are paid. One of my partners pays all her consultants once per month, within the first 10 days of the month for all work completed the prior month. This works well for her, because she's saving money with her bookkeeper on the frequency in which checks are written.
However, if a significant portion of your income is tied to partnership consulting engagements, this practice can wreak havoc on your cash flow, unless you plan well. With the other two consultant partnerships, I bill as work is completed and they pay as work is completed.
In an ideal world, if you can structure your payment terms such that you are paid immediately by your partner consultant – great! In all instances, a candid and open conversation about payment is essential to establishing a long-term partnership.
Con #3 — Whose client is it anyway? The bright (and the blurry) lines of the consultant-client relationship
Dear Reader: I'll say this even though I know as a savvy consultant I'm telling you something you already know . . .
. . . any client who doesn't have a direct contract with you is not your direct client.
BUT, if you want to build goodwill and strong relationships and to curate follow-on business (with your partner) for the future, their client is still your client. (See how that can get a little fuzzy?)
I cite the client relationship as a "con" primarily because in most instances, your contract with a partner consultant has non-compete language that is typically in effect for one year or more AFTER your last project with that client. That means you may have done some of your best work with a partner client, but you can't engage them directly.
Here are some standards I follow in handling my relationship with clients brought to me through partnership consulting:
I DO respect the bright line of

no solicitation of any kind

.

I DO ask for professional references from my partnership clients, but only with express permission of my partner consultant.

I DO NOT ask for referrals from my partnership clients.

I DO cite my partnership clients as a part of my past performance for the purpose of

marketing my direct consulting efforts only

and to ensure that my potential direct clients know the nature of how those came to me.
Con #4 — Downplaying your brand
A related matter is an expectation that you perform the work under your partner's brand, not your own. This is less than ideal because, as Dorie Clark points out in her book Entrepreneurial You, you should always be positioning yourself as a "recognized expert."
For me, this means I use an email address issued by my partner and all my work product is branded with their logo. In most instances, my partners are fine with the client knowing I'm an independent consultant working with them because the communications and deliverables are labeled as theirs.
I have had a partner express concern that I not make the nature of the relationship known, but I pushed back on that issue for two reasons.
My work and my name will appear in a number of places and I don't want a client to think I'm "stepping out" on my partner by giving the impression that I'm the partners W-2 employee when we actually have a partnership consulting arrangement.

I am a free agent, with the latitude to pursue as many projects and relationships as I can manage, (which after all, is the whole point of this consulting thing, right?) At the end of the day, it's my expertise that provides a direct benefit to the client as I help them to address their business issues. It's my work they see, and the interactions I have are one-on-one.
Finding consulting partners: The four dimensions of partnership consulting and their sources
Given that all my partnership consulting arrangement are with firms that specialize in human resources just as I do, over the years, my partnerships have been characterized by at least three of the four partnership dimensions I've outlined in the graphic below.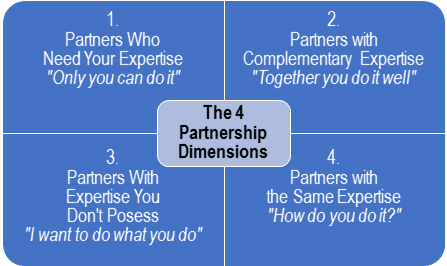 So, what are some ways to find consulting partnerships? These approaches have worked for me:
1. Add your profile to a consultants' directory
My first and longest consultant partnership came from my profile being listed in the directory of one of the professional associations of which I am a member. I can't recall how long my profile was active before I got the call, so this is typically a passive, long-game approach.
With that said, it's important to keep your profile current, as you never know when someone may need a consultant with your expertise.
2. Reach out to consultants who did work for your former organization
This assumes there was a time in your life when you worked for someone else!
I recall when I first went solo, I sent an announcement to every consultant I'd ever worked with in various organizations to let them know I was going out on my own and welcomed the opportunity to work with them. At the time, I was willing to take on any assignment given because I needed cash flow, the experience and the client roster.
3. Seek consulting firms in your area of expertise
Some consulting firms hire their consultants as W-2 employees, affording the hiring company more control over the work and outcomes. Other firms like the flexibility of a 1099 consultant, particularly if your skills fall into dimensions one or two of the graphic above.
Partnership consulting manages your business risk and supports your business growth
Over the years, having three discrete partner consulting relationships has benefited my cash flow because project peaks and valleys are smoothed out among the three firms.
In some instances, I've had work come in from all three, which makes life a little hectic, but that pace is rewarded with multiple checks! In rare instances, project work is light from all three partners, but that's also when I typically am engaged in direct client work.
These relationships have also contributed tremendously to me honing my technical skills in my specialty. It also helps me improve my consulting skills overall, e.g. managing client expectations, addressing client issues, dealing with consulting matters like scope creep, slow payment, non-payment, etc.
As a reminder, establishing partnership consulting projects is ideally something you do in addition to developing work with your own clients. Eventually, you will get to the next iteration of your consulting life: that time when you are ready to stop being the "backup singer" and move on to being the "headliner."
More to come on that!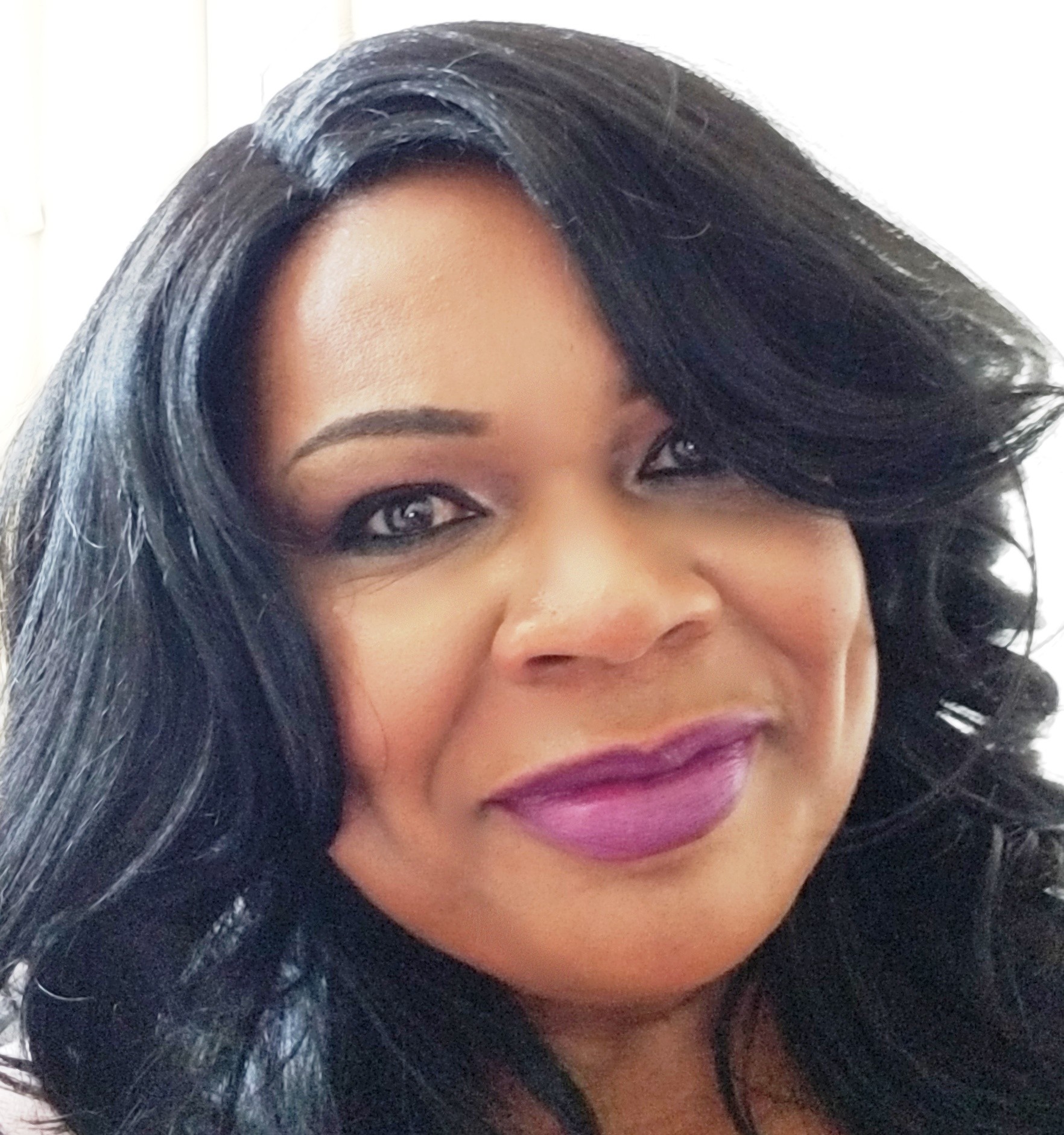 Dora Daniel
Dora Daniel, M.A., CCP, CECP, GRP, SPHR, SHRM-SCP, is a performance and learning consultant living in the Washington, DC metro area. She designs compensation, performance management and learning programs across a variety of industries including research, international development, healthcare and marketing. You can learn more about her work at LiveWorkLearn Enterprises.