What's better than conferencing in from a pair of fuzzy cartoon trousers? Not saying I do that or anything, but you know what I mean . . .
Personal freedom and flexibility are the kinds of perks consultants and freelancers often tote but there are of course days when we really need to look and act the part. Video interviews and meetings fall squarely into this category.
Skype calls can be a great way to inspire trust in potential clients. Along with the all-important first consultation they can sometimes make or break a deal. The good news is Skype etiquette isn't Ruby on Rails programming — you can nail this stuff in minutes! More important than ever, since the future of work involves building and working well with virtual teams. The solopreneur who does this well is going to have an advantage.
Related Article: Is Your Email Etiquette Lousy? Shape It Up!
Keep it classy on screen
A Skype call is a window into your world — it's the part of your work experience the client gets to see. While your work desk doesn't always need to be spotless, the space behind you probably shouldn't aim for the "abandoned warehouse" or "festering compost heap" aesthetics.
For multiple reasons, it's a good idea to designate a specific area for your work duties and keep it presentable for occasions like this. Would this view be suitable for a bio picture? If so, you're halfway there.
Naturally the other half of the equation is how you present yourself. Common sense is your best friend. You don't necessarily need suit and tie but office casual clothes are a safe bet. And please do yourself a favor and put on some pants — this is a risk you do not want to take.
Outline and limit call
We've discussed the high importance of time management for the independent and that applies in every way to client communication. A client video call without a predetermined agenda and time limit is a recipe for a lot of wasted time and that applies for both parties.
Freelance designer and career coach Nesha Woolery wrote a useful post on this subject in which she suggests offering prospective clients a free 15 minute consultation. This is a great idea because it makes clear to all conference members at the beginning of the call that time must be effectively managed, and a time limit gives the contractor an easy exit if the chatter spirals out of control.
Just as with other forms of communication, having a bulleted list of talking points handy will keep topics on track and help the client stay within your allotted time slot.
Engage your client (make eye contact with the camera, show upper body)
So you are well-dressed and in front of a background that doesn't look reminiscent of 90s horror movie set — what now? Let's look at the finer details.
While video calls are a great technological advancement, they certainly have their limitations. Caller engagement is one of the big ones. Tarryn Michie, client liaison manager and human potential coach at MJB Seminars says in an excellent LinkedIn blog that "55% of communication is through body language."
While this is clearly a subjective figure, it illustrates the point that our physical presence on a video call plays a crucial role in the effectiveness of our communication. For this reason Michie rightly recommends having your full upper body in view of the camera. People talk with their hands; keep them in visible!
It's also important to remember that your screen is not your focus point — the camera is! If you are staring down the whole time, you will not be engaging your client.
Keep records of your calls
One of the "hot button" issues in the world of Skype etiquette is whether it's acceptable to multitask a bit while on a call. My answer would be, to a degree, yes.
I make it clear to clients when we begin Skyping or talking by phone that I will be taking notes of our conversations and pass them along for their reference after the call. I don't type out calls word for word but try to keep a useful log for myself of client feedback and direction.
Clients usually appreciate this diligence. (And if I happen to be typing something unrelated to the call, they do not take it as a lack of interest on my part. With that said, you really should pay attention to your client!)
Another reason to keep these records is to show clients that they signed off on your work at a later date if any disputes arise.
Have the means to visually relay information to clients
Lastly, the ability to relay visual information to clients during Skype calls is a huge help. In this arena, two things stand out as must have tools: screen sharing functionality and sketching apps.
There are many times when verbal instruction simply does not cut it — anyone who has ever given a client a tour of their new website surely knows this. Screen sharing apps are a great way to cut out the confusion and many are free. I'm a big fan of Join Me. Unlike Skype screen share, it allows for mouse control share, which is a huuuge help.
If you operate in the design realm, having a dynamic and responsive sketching app is also an advantage. Craig Stewart drafted up an excellent list of these many tools that can very affordably fill this need in a recent Creative Bloq article.
Skype etiquette is all in the prep
Success in the Skype realm all comes down to preparation and a degree of practice. You may want to try some of these tips during a call with a friend or colleague and record the video to review after. It can be a little awkward to watch yourself, but this is undeniably one of the best ways to improve. Get to it!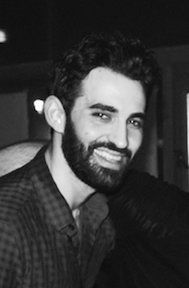 Ben Shanbrom is a freelance writer, musician, and copy editor who works with artists and clients within his native New Haven scene and well beyond (ask him about tracking drums in the studio where Europe recorded "The Final Countdown"). Ben is a tried and true "coffee rings on his notepad" freelancer, and wouldn't have it any other way.