If you've ever done a quick survey of the search term "freelancer" in Google images, you'll quickly come across the deeply romanticized version of the "consulting life" we know as a culture. Being able to travel while freelancing sounds like a surreal dream to many indies — you know, the one where you're relaxing on a hammock in front of a far-away beach while sending a client email or two and queuing up a new series on Netflix. Isn't that dandy?
One of my favorite pieces we've run here so far at Nation1099 is Kathleen Krueger's Can Freelancers Really Work from Anywhere — A Reality Check. Krueger did a great job assembling a number of interviews that shed an honest spotlight on one of the coolest perks of being a 1099er — as well as the practical drawbacks — that exist in the modern "working vacation."
If you've resisted going to the places you really want to visit or having the recharge vacation you desperately need, I recommend trying out travel while freelancing at least once. It's a great way to add some variety to your routine and refresh the excitement factor in your solo business, which we all know has its spells of tedium.
In this piece I want to expand a little more on these practicalities and how to best set yourself up for success when you travel while freelancing.
First off, determine: is your work "travel friendly"?
Can you assure your client that your value will not be compromised by working abroad? If you were thinking of leaving for the Philippines for a few weeks while pretending that you're still in Massachusetts, I hate to burst your bubble: You won't be fooling anyone for long. As with nearly all scenarios, it's important to be transparent with your clients.
We come back to the idea of value added. It will not matter to clients that you're off on a wild adventure. If you allow your travels to interfere in a significant way with the value you bring to your projects (quality of work, turnaround, etc.), then you will have some unhappy people on your hands! You need to have established the trust and flexibility to make your work from abroad a success.
Common sense is also important here — some freelance occupations just play out better than others in the travel arena. If your clients regularly need you involved in hands-on strategy meetings or shooting video for them, this may not work.
Square up your finances before you attempt to travel while freelancing
If you'd like to avoid starting off your travels paying for a nice, long phone hold or with a rejected credit card purchase, sort out your finances before you hit the road. (Or — and this is especially important — before you board the plane for international soils.)
Easy ways to set up your finances for travel:
• Get yourself a debit card and enable online banking
• Sign up for online banking for your credit cards (you will want to be able to check your balance and make payments on your phone)
• Set alerts for monthly payments
• Notify your credit card carriers that you will be out of the country
• Get your payments processed before leaving
• Keep track of work expenses with a spreadsheet or receipt scanners
The fewer loose ends you leave before your travels, the better.
Go where the WIFI leads you
If you're looking to hide from clients who have been stressing you out, then the worse the Internet the better! But clients may not appreciate your elusiveness . . . and you may lose these clients.
Going on an adventure as a traveling freelancer with a sparse Internet connection is a lot like staying in a beautiful Mediterranean city and having rain every day of your trip. It feels like an opportunity lost. While there are no guarantees, it is best to research your living accommodations very well and make sure that they have strong WIFI available (you may want to check Yelp or hostel aggregator reviews). No Internet is a crappy surprise. It also helps to know if there are some Internet cafés in the vicinity.
Agree on communication methods with clients ahead of time
Communication while abroad can be the crux of many client anxieties. When we're working from home or the coworking space, last minute tasks or communications are a fairly regular occurrence. We can usually work through them with the client or request additional compensation to make it happen. However, if communication is spotty, whether because of our devices not working at full capacity abroad or a less-than-stellar connection, we often have less room to respond dynamically to client needs.
These are all reasons that reinforce the importance of honesty in these arrangements — it's also good reason to work out a consistent schedule and means of communication with your clients. Perhaps you Skype every Wednesday at 8pm your time — if you're in an area with great WIFI, Skype's international call feature can be a simple and affordable way to keep in touch.
Related reading: Clean Up Your Skype Etiquette – Tips For a Professional Video Conferencing Persona
Writer and seasoned traveling solo, Halina Zakowicz brings up an important concern about the freelance workflow in a recent I've Tried That blog that bears serious consideration ahead of time. Frankly, we need to go a little above and beyond the call of duty to make this work.
"Regardless of how much work you can finish ahead of time and send out to your clients for review, there will be a lag in response time and feedback simply because you will be several hours ahead or behind those clients," says Zakowicz. "So, a looming deadline will probably result in you sitting at your desk at 2 a.m. in the morning and working with clients to publish something by the end of their day, not yours."
While certain deadlines may seem unreasonable to you based on differences in time zones, this is not really the problem of your client. Yes, some will be sympathetic to your cause, but others will not be and that is reasonable (who says you have to work with a web developer who insists on working from Sao Paulo?). This does not mean you need to be at the beck and call of your clients while on the go, but you should not forget their position and priorities.
More reading here on keeping your client relationships in good shape.
Be on top of your schedule and planning, but don't forget to smell the tropical orchids
Thinking ahead is, or at least should be, at the top of the list of necessary skills all solopreneurs need for good business. But this is especially important for those who seek to travel while freelancing.
Some days it can feel hard enough just keeping track of all our of responsibilities while working from our own living rooms, and it's certainly harder when we're trying to crush work in new countries we've never visited before.
It's essential to clearly lay out client communications, deadlines and "no-work" hours as soon as possible, prior to your journey's onset. This isn't just to make your clients happy, it's to help you enjoy one of the coolest parts of gig economy life. Freelancing on the road, in a national forest or somewhere abroad is hard work. But if you plan ahead, it can mean life-changing experiences on a fairly regular basis. Love what you do and where you do it!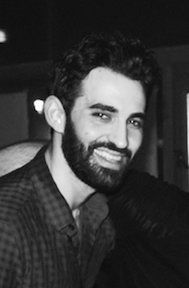 Ben Shanbrom is a freelance writer, musician, and copy editor who works with artists and clients within his native New Haven scene and well beyond (ask him about tracking drums in the studio where Europe recorded "The Final Countdown"). Ben is a tried and true "coffee rings on his notepad" freelancer, and wouldn't have it any other way.