Self-promotion and attracting new clients are hurdles even for experienced freelancers. Networking feels completely unnatural for many us, and in many cases we simply don't know where to put ourselves to build the kind of referral networks and healthy pipelines we need to succeed.
Well no more putting off the search for new clients. No more "I'll get to it . . . eventually." Today is the perfect day for you to start pulling in new clients.
In this guide you will find 20 powerful strategies that will help you:
Understand the exact kinds of new clients you need to grow your business
How to make yourself irresistible to them
How to build relationships online and in-person that lead to high quality referrals
How to find the time each day to make these things happen, little by little
Much of this summarizes extensive advice in other articles, so think of this as an overview, and be sure to click on the banners in each section for tips on finding new clients.
Wake up one hour earlier every day to do your outreach and business development
We know we need to put consistent work into attracting new clients. But many of us put off these additional tasks because, frankly, it takes time to do them. That's time we lose on our current projects.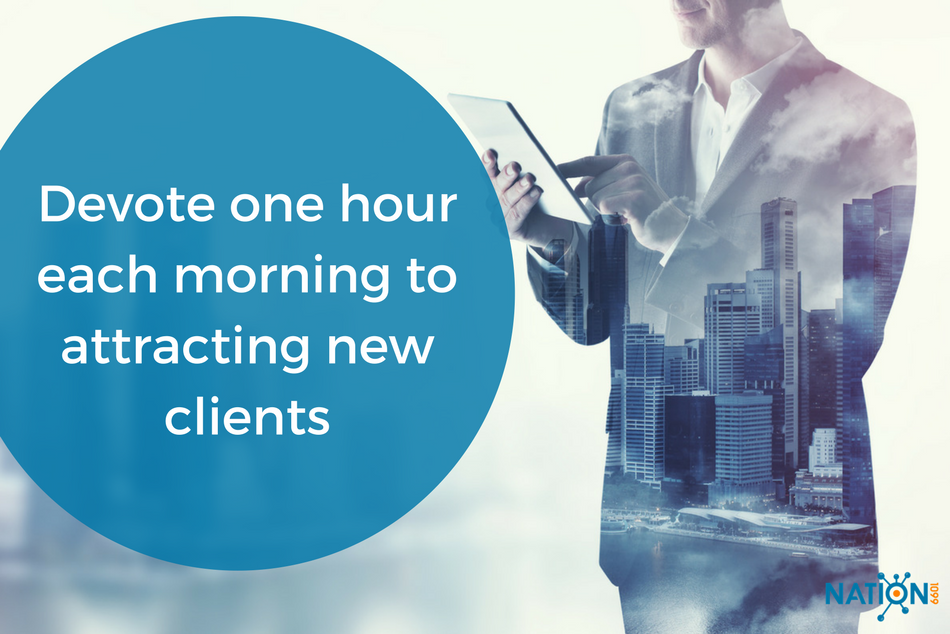 Break this cycle by setting your alarm one hour earlier. Commit to a couple very concrete tasks each morning in this special window when you're mentally at your freshest.
Most of the following strategies for attracting new clients can be completed or initiated in well under an hour, so consider all of these if you aren't sure where to start.

Develop a clear client profile
I can't recommend this approach highly enough. Whether you're a newer freelancer looking to reel in your first clients or an established solo consultant aiming to take your business to the next level, all of your growth strategies will benefit from this tool.
A client profile is a short specific summary of your target client demographic. By creating a vivid picture of the people and businesses you most want to work with, you unlock the ability to speak directly to their needs, and you distinguish yourself from the amateurs.
A client profile helps you stop making rookie mistakes like claiming to be an all-purpose, full-stack generalist who "specializes" in a list of industries longer than a tax form.
We put together a guide below dedicated to determining your client profile and using the insights from it to attract new clients.

Make an aspirational client document and send out personalized emails to three of them each day
With your client profile in hand and an extra hour in your day, do a bit of research and compile a spreadsheet of local and remote businesses, as well as higher level freelancers, you would love to have as new clients. Google, Twitter and local directories are good places to start your research.
Then start chunking your outreach.
First thing each morning send out three immaculately written emails to these prospects. It will feel good to have a concrete item like this crossed off early in your day and this will keep your pipeline healthy.
Ask for referrals to identify prospective clients
Referrals will not happen if you don't ask for them, so be proactive! There is no reason to be afraid of politely asking your current clients for referrals.
Your clients understand that you're running a business and that this is not an "exclusive relationship." At the right time, simply say with confidence, "I'm in a prospecting phase right now, and I've really enjoyed our work together. I wonder if you know of any colleagues at other companies who might need my services who you can point me toward."
You can ask this just after a contract renews or at some natural anniversary. One way to keep it casual is to bring it up during one of your regular check-in calls, offer them time to think about it and say that you'll check with them on the next call.
Another great time to bring this up is when your relationship is ending, assuming that it is on good terms. If you are completing a project and they aren't renewing your contract for reasons that don't have to do with the value of your services, just say, "It's been great working with you. Hey, during this wrap up phase, can you take a few minutes to think about who else might need my services?"
Be sure to identify next steps. Will they send an email intro or let you reach out and to mention your client's name?
If your existing client is going to send an intro, they may appreciate you providing a short boilerplate paragraph about your services that they can use. That also gives you a rationale for nudging them after a couple of weeks if they haven't sent the intro that they promised.
Evaluate your website for these five things, and revamp if needed
Your website may be keeping new clients out of reach. Obviously, you need a website to do business in the gig economy, but your website needs some important features to close the deal:
Relevant language. Does your clientele know immediately that your business is geared toward their needs?
A clear call to action on your landing page. What do you want visitors to do when they get there?
Very high quality and current samples of work. Do your samples represent what you're currently capable of?
A blog that demonstrates expertise. Does your website offer content that meaningfully educates your prospects and shows your qualifications?
Lead capture content that drives prospects to give you their email. Are you getting the maximum benefit out of your traffic and incentivizing visitors to connect with you?


Add testimonials to your website
Client testimonials will make all of your online profiles sing and it's so easy to get them.
Ask two-to-five current clients (that you know to be undoubtedly satisfied with your work) for a brief reviews of your services. Add these quotes with your clients' headshots (pending their approval) to your homepage.
If they are also willing, ask them to post their review as an endorsement for you on LinkedIn. In fact, this might be the most efficient way to get testimonials. Your clients my feel that "write a testimonial for my website" is too vague, but everyone knows how to fill out the recommendation form on LinkedIn. Just let them know that you may copy and paste what they've written there for your website.
Create a referral program to attract new clients
If you feel your clients need a little push to help you grow your business, you may want to create a referral program.
Determine an incentive that is reasonable for your business. Do your customers save $25 on their monthly fee for each new client they refer? Is it $100 for very high value clients? Do you simply give them a free keyword evaluation of their website or set them up with a new email marketing platform?
Whatever the case, use the needs of your client profile to guide your referral program. Give them something you know they want!
Just remember: Don't give away more money or time than you can afford to part with. Your referral program needs to be be cost effective for your business.
Create a productized roadmap
The initial consultation can be very frustrating and ambiguous for the solopreneur. We often see hours of our time gobbled up with no billable value or guaranteed work to show for it.
If you're getting bogged down in fruitless initial consultations try a different approach — the project roadmap.
A project roadmap is a productized initial consultation for a finite amount of time that you require new clients or prospects to purchase. Perhaps you offer them a one-hour call for $150 to organize the full outline of their project and determine its goals and necessary strategies for completion.
This takes the pressure off of you to be accountable for this time and it pushes both you and your prospects to approach the initial consultation with greater seriousness. This added "skin in the game" will mean more conversions and more new clients for you.

Optimize your SEO presence for your client profile
Does Google care that you exist? Failure to consider keyword relevance in online branding is a big reason freelancers do not get the exposure and new clients they should be attracting.
Not all of us are SEO buffs, but we need to make sure that our websites and web presences actively communicate:
Exactly what kind of work we do
The industries and niches we service
WHO we are serving
And in some cases the geographic areas we work in (which can make a big difference for high competition keywords, e.g. "WordPress Developer" versus "Chicago WordPress Developer")
Make sure your website's meta titles, meta descriptions, slugs, navigation buttons and paragraph content represent these elements so Google shows you to the people who would love to hire you.
In other words, showing up in the results of a frequently searched term only matters if the people searching that term are the people you want to reach. SEO is combination of search volume for a term, competitiveness for a term and the searcher's intent. Many people forget that last element. You have to know how your target client is and then have a sense of how they will search for help on Google. Those are the search terms you should be optimizing for.
Tip: Google's algorithm is sophisticated enough now that you don't need to force keywords — don't try to cram "Chicago WordPress Developer" all over your website. That's a strategy from 2008. Calling yourself a "WordPress developer who services clients in Chicago and beyond" will do just fine.
Send content-driven follow up emails
Follow up emails can be incredibly effective if you know what you're doing. I'm not talking about a casual "Hey — just checking in." Those don't work. Don't send those.
One secret to a great follow up email is creating something valuable for your prospects as your reason for reopening contact with them. Offer them a thorough blog post that helps them address a problem you ow they're having, or send them a downloadable e-book or video lesson.
Don't forget to include your current and former clients in these contacts to keep the relationship warm.
This material doesn't necessarily have to be your own. It only matters that you have something great to share with your prospects. If you truly have your finger on the pulse of the industry, then you should be seeing valuable content that others may overlook. Send along studies, surveys and white papers with a personal note such as:
"I noticed the table on page 11 in here and remembered your comment to me about the trouble your team is having in this area. I thought this might interest you and your colleagues."
Make sure that you avoid any obvious sales pitch in this email. You should, however, tell them to contact you if they have any further questions about the guide or the topic.
The idea here is to create a natural transition from the education process to sale.

Raise your prices and offer new service packages
As a little addendum to the last point, if you've successfully re-established contact with a stalled-out lead, and they've demonstrated interest in your services, make sure you present them with a higher rate and new service packages or offerings in your scope of work.
It's important to show on-going prospects that your value and skills have increased in the time since your first communications. This is also a great way to test new pricing packages in a low-risk capacity.

Create and deliver free webinars with Google Hangouts
Let me start by saying, anyone can do this. You do not need to have a TED Talk in your resume.
If you put some time and effort into honing a strong presentation, webinars can be an extremely effective way to grow a dedicated online following that will want to work with you. And if you do it this way, it won't cost you any more than your monthly internet bill.
Work-at-home solo consultant Beth Griffith made a great video that shows just how easy it is to create either a slide-based or live video webinar.
Screencasting software can be a useful tool for these presentations if you want to walk your viewers through some kind tool or resource.
Don't overlook the tags! As Griffith points out, Youtube bumps to you to the top of their tag searches when you go live with your webinar so make sure you add the appropriate tags to your live stream webinars!
Organize or participate in local events
If your ideal clients live in your backyard, you need to think about local events. While we may do most of our client work from a distance, meeting prospects in person gives us the opportunity to stand out.
Create a concise, one-hour explainer lesson that helps your target clients handle (or at least be better informed about) a topic you know stresses them out. Organize a small event around this presentation at a local coffee shop, bookstore or bar.
The local outlet gets more customers, your prospects obtain valuable insights, and you've made a great pitch to 10 or more very qualified leads. When it's all done, you will be well on your way to landing some new clients.
Related reading: Lonely No More — 4 Freelancer Networking Tips for Stay-At-Home Professionals
Join a coworking space
Freelancers need other freelancers, and the highest value work we can do for clients requires collaboration. Where do freelancers go to find collaborative environments and new network contacts? Coworking spaces, of course.
If you're having a hard time breaking into your local business community, try spending some time in the different coworking spaces in your area and shake as many hands as you can.
If you build a good rapport with your fellow coworkers and take interest in their work, you will have another strong referral tool working in your favor.
Do a quick search for coworking spaces in your area, then make an effort to try out a new one each month.
Related reading: Find and Choose the Best Coworking Spaces For Your Freelance Work
Join a mastermind group
In addition to being great for your career and wellbeing, mastermind groups can also get you new clients.
Not only are mastermind groups a great way to keep yourself motivated and on track with your goals, they also build networks of peers around you that are dedicated to your success.
This means a network of reliable collaborators to tap when projects require another set of hands, an additional content writer, web designer or illustrator. You can be the other members' first call when they need great work they can count on.
If you're new to the idea of the mastermind group, we've got all the info you need to find, organize, run and create your own below.

Guest post intelligently
Guest posts can be a great tool for building online relationships, brand credibility and SEO relevance, but they can be time consuming as well so it's important to make sure that you only pursue outlets and opportunities that will add value to your brand.
Determining this may be as simple as following online publications on their social media channels and analyzing the size and engagement of their followings.
Also pay attention to these websites' domain authority rankings — this rating from 0-to-100 will give you an idea of the kind of ranking benefit you will get from their link. Download the Moz Bar with a free account to quickly pull this information.
Wherever there's a question, be the answer
What kinds of problems and frustrations are your prospective clients talking about on social media, on forums, and on question and answer websites?
Wherever these dialogues are happening, make sure you're there too and ready to deliver your expert advice.
How do you find these places? Try Googling these two things:
[client industry] forum
Questions about [client industry]
Apply to a high level freelance marketplace
Freelance marketplaces can be useful for filling in gaps in your pipeline and, in some cases, they can even attract new clients with long-term value.
While marketplaces are best used as a supplement to your outreach efforts, they shouldn't be written off as universally low-value or quality.
The landscape of the industry has changed significantly in the last several years and many now cater to the high skill levels and financial demands of the gig economy's elite talents. See for yourself in our master list below.


Send "Hail Mary" pitches to your highest priority prospects
You know those couple clients you'd give an arm and maybe a leg to get a meeting with? If you really, really want them in your client base, consider approaching them differently.
Rather than sending another email or making another call, send them something that stops them in their tracks and makes them want to find out who you are right away.
In this strategy you go "all-in" on one or two particular dream clients and create hyper-specific, high-effort pitches that are so unique and personalized, they can't be ignored.
This often entails:
Doing extensive research on this client — their goals, concerns, problems, aspirations, unique quirks, any coverage they've received
Creating a thorough outline of how you can help them grow based on these factors
Using the exact terminology, KPI's, and features of their business they've used in their content or questions posed online
If you really want to stand out, also consider creating "stop-them-in-their-tracks" physical packages that contain these assets and invite them to contact you.
Example: Want to work with a tennis brand? Put your business plan in a beautifully designed tennis ball case with your face on the front and a towel with a specific question directed toward them written on it.
You may also want to deliver this pitch in a captivating video, song, infographic, etc. The creativity of your pitch will reflect the creativity of your project work.
Keep the pipeline flowing
You want a constant flow of prospective clients, and the pipeline dries up when we "wait and see what happens." We need to stop being passive and actively drive our business development.
It's such an easy mistake to make. You have "a great call" with a prospective client after months of courting. They say they'll talk to their colleagues and get back to you after the weekend. It's very tempting to relax the search for new clients and start mentally planning the work you'll do for this new client.
Successful freelancers instead forget about that great call for awhile and immediately return to the slog of getting new prospects into the pipeline.
Pursuing new clients can't be something you do once every few months. It needs to be a consistent and focused effort, but it's entirely doable and low-stress if you break this work into small daily chunks. Pretty soon you'll see these little chunks turn into new clients and crazy inbound leads you never thought you could attract.
Which of these strategies will you start using in your extra hour each morning? Tell us below. And if you have other strategies you've used to land new clients, we'd love to hear them!
Photo credit: The header image uses a photo by Gaetano Cessati.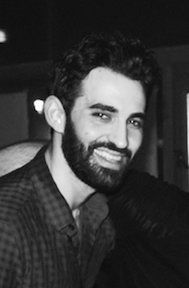 Ben Shanbrom is a freelance writer, musician and copy editor who works with artists and clients within his native New Haven scene and beyond.