The online job market is one of the most useful tools the modern freelancer has for securing a steady workflow. In this post we identify what we believe are the best freelance websites, freelance marketplaces and freelance job boards currently available to independent professionals of all specializations.
In a recent study commissioned by Freelancers Union, 69 percent of self-employed workers affirmed that new technology has made finding gigs easier. Freelance websites and job boards have blown open the gates to consistent and steadier income for non-traditional workers of many backgrounds.
The modern freelancer has many more options than the two or three best-known sites. Be sure to look beyond Toptal, Upwork and Fivrr.  (Also be sure to check out the specialized list of best websites for consultants that we put together.)
But it's also possible to have too many options. We have so many freelance platforms to build profiles on that the self-employed professional faces serious option paralysis. Even worse, you might invest a lot of energy in a marketplace for freelancers and have it fold underneath you, taking your customers with it.
In response, we regularly update this comprehensive list of the best freelance websites and marketplaces for the independent contractor.
By the way, before we get started, if you are looking for tools to manage your freelance business, check out Bonsai, an all-in-one toolbox for writing proposals, invoicing, time tracking and reporting for freelancers. They're offering a free month for Nation1099 readers.
[Latest update: January 17, 2018]
Exciting newcomers: The best new freelance websites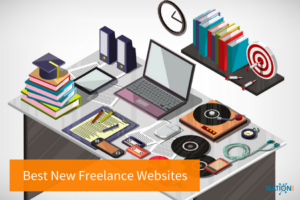 The newest freelance websites represent a new breed of more selective, seller-focused marketplaces that bring fresh ideas and opportunities to talented gig economy professionals.
Some of these new sites may not be the biggest names on the scene, but the best freelance websites in 2017 offer innovation, specificity, fairness and quality to users on both sides of the marketplace, and in that regard, the choices below definitely deliver. Don't sleep on these!

1. WorkMarket

The one with the slick app
Work Market is one of the new "for-everyone" project markets we're most excited about. The platform boasts gig offerings for a very wide array of disciplines and is one of the few freelance websites that currently offers a responsive mobile app (Work On-Demand) for browsing projects on the go and processing payments right at the close of projects — regardless of whether the client ultimately pays for the work (for a small fee).
2. Coworks

The lightning rod
Coworks is a freelance marketplace that allows creatives to showcase their portfolios in the public sphere, much like they would on LinkedIn, but instead of collecting generic recruiter messages, they're matched up with gig opportunities that fit their distinct abilities and preferences by Coworks' recruiters. The 12% commission rate is also competitive within the industry.
Businesses can directly approach freelancers with curated project proposals that they can either accept or pass along to friends. And heads up on the referrals — according to their website, the average referral bonus is $1500.
3. Konsus

The steady stream
No proposals; just an application — this is the general idea behind Konsus. As many of us who have used freelance websites and job boards in the past can more than attest to, applying for project after project can be exhausting and drain us of the time and energy we need to actually do the work we're hired for.
Konsus gets the vetting step over with right at the beginning of the membership process and then affords approved applicants (which the site claims to be a slim 2 percent) a steady stream of project opportunities they can claim as many of as they like, whenever they choose.
It's a novel idea and one that offers a potential solution to an issue freelancers have dealt with now for many years. One caveat, however, is that Konsus uses fixed hourly prices that cannot be adjusted.
4. LocalSolo

Free with zero commissions
LocalSolo is going to be very attractive to people tired of the platforms taking a cut of their earnings. Unlike many marketplaces for freelancers listed here, LocalSolo charges fees on the employer side. Freelancers negotiate their own fees and keep all the contract for themselves . . . if they pass the application process. Employers pay because they are getting a "curated talent network" rather than a bazaar.
Employers connect with you on LocalSolo in three possible ways — post a job for you to bid on, reach out to you directly if they notice your profile or hire LocalSolo to handle the recruiting. Some common freelance jobs listed include copywriting, software design, game development, marketing, social media management, commercial photography, project management, sound editing, business strategy development, UI/UX design and web design.
LocalSolo also tells us privately that a benefit to their platform is that freelancers find one another, team up to join different skillsets together and take on bigger projects.
5. Loom
  
Payment AND equity
Ever imagine that you could do freelance projects online in exchange for pay and equity in clients' companies? It's a pretty interesting idea to say the least.
Entrepreneurs often lament the lack of "skin-in-the-game" freelancers can seem to have with their work, and freelancers often feel excluded from the inner-workings of their clients' businesses and their large-scale successes.
Loom proposes a pretty cutting-edge solution to these grievances, and one that sets them apart from most other freelance websites. On top of that, they don't charge a service fee for any work independent contractors accept on the platform.
6. Hubstaff Talent
 
The freelance marketplace — free of fees
Hubstaff Talent is a relatively new freelance website that offers a unique vision of fairer compensation and greater time accountability to the independent contractor.
Some distinguishing features of the platform are their strict no-commission fee policy for their talent and their transparent time tracking model.
Hubstaff Talent uses their own screenshot monitoring system that their clients can check in on whenever they like. If you're not familiar with this kind of time tracking model, make sure you know what to expect so your clients don't catch you checking Facebook on the clock!
7. Working Not Working

The creative's sanctuary
High quality clients . . . no commission fee on payments . . . do we have your attention? Working Not Working lives by their mission statement — "WNW was started by creatives and we look after our kind."
This invite-only freelance marketplace is a slick and impressive-looking project board that grants its thoroughly vetted 10 percent of applicants access to a number of perk-laden projects with no "behind the scenes" costs.
Working Not Working is highly selective, but well-worth the effort if you have a portfolio that you feel speaks for itself.
8. ilovecreatives

The creative's billboard
ilovecreatives is a small, but dedicated freelance platform that connects clients with creatives in an extensive range of disciplines (everything from filmmakers, to accountants, to stylists).
ilovecreatives has a unique personal initiative dimension to its vetting. They require a $40 application fee and an extensive application from all of their creatives before approving them for the platform. However, they boast a 100% acceptance rate from all of their applicants who are willing to work through the rigorous vetting process with the ilovecreatives team.
This freelance site takes the initiative to feature their new freelancers whenever possible across their newsletters.
9. Patreon

The creative's subscription service
Patreon is a freelance site designed especially for creators that allows them to create membership -style businesses around their fan base. If you create music, youtube channels, or other kind of media, you've undoubtedly heard of Patreon at this point. If you haven't, do yourself a favor and check it out.
Patreon allows freelance creatives to fund their art by offering followers regular paid subscription services with insider content and other special privileges. Rather than connecting creatives with gigs, as most freelance websites do, Patreon allows artists to make their passion their income.
10. Simbi

The talent swap
Simbi is a little different from the rest — while it will not "rake in the bucks" for you so to speak, the new "talent as currency" marketplace offers members an interesting twist on the standard job board or Craigslist outsourcing.
Simbi lets users freely trade services with each other or opt to pay for work with Simbi credits. Need some things updated on your website? Design a couple logos for a developer. Need some tuba lessons? Make a t-shirt quilt! It's pretty darn cool.
You get 100 Simbi credits when you join and offer a service (if you couldn't tell — it can be as obscure as you like!).
11. Collaborizm
 
The Craigslist of Collaboration
Collaborizm is wild — and wild in a good way. It's a public collaboration board for creatives, engineers and entrepreneurs.
Anyone can post projects ranging from app development, to game design, to robotics work, and freelancers across the globe can claim specific roles in the given project (at the creator's discretion). Collaborators can be paid in either money or equity in the project.
There's some pretty cool stuff going on here. It isn't all paid work (you'll find a lot of passion projects in the mix), but for freelancers looking to get their hands in some cutting-edge creative work, Collaborizm is really worth looking into.
Sorry Apple users, Collaborizm's app is only available for Android at the moment.

The best freelancer websites for industry-specific searches
While many of this largest freelance websites are open to as many different kinds of freelancing as possible, you may be better off looking at some of the specialized industry-specific sites.
These freelance websites offer compelling alternatives to talent contests by delivering higher quality projects to smaller pools of thoroughly-vetted freelancers, in addition to a multitude of new ways for them to creatively sell their services. These are a great step toward professionalizing the gig economy and are a nice counterbalance to the wild-west reputation of some larger freelance platforms.
Freelance sites for designers and web developers
12. Toptal

The exclusive club
Toptal in the last few years has become the undisputed heavy-hitter among sites for freelance engineers and developers. If you aren't familiar with this "cream of the crop" freelance marketplace, Toptal accepts only the top three percent of applicants in the web development, design, consulting and finance fields.
Following their vetting process, the platform connects freelancers with lucrative and sophisticated projects for many resume-boosting companies.
13. Designs.net

The online craft fair
We agree wholeheartedly — spec work sucks. The design contest model is great for businesses, but pretty crappy for frerlancers. While it is possible to repurpose elements of rejected deliverables, it often amounts to free work, and many hours worth, at that.
Designs.net offers a simple, but fairer alternative to the iffy model: you post your design products — whether themes, templates, fonts, or many other offerings — at whatever price you fancy — and sell your goods to their expansive client base.
The 25-to-30 percent commission is not insignificant but beats the fees many other design marketplaces charge (up to 40 percent — yikes!).
14. Codepen
 
Gigs, community and a neat tool
Codepen is one of a growing number of websites for freelance developers and coders. This site works on a social coding model to help web designers and front end developers grow their skills, find new projects and do better work. Codepen  stands out as a freelance website with unique community-building aspects and special tools.
The website's live view window allows developers to see the changes they make to their code in a real-time preview field. Users can also comment on and share the work of other developers, teach webinar classes from Codepen, and use the platform as a functional resume to attract new work through the site.
15. Techfetch

The tech, data and development portal
Techfetch is a comprehensive freelance board that connects back end developers, data engineers and IT professionals  with client work, trade shows and online education. Techfetch is an open platform with a free application process.
16. Gun.io

Skilled professionals who thrive on autonomy
Gun.io, like us, is gung ho about the potential of the remote workforce. This site matching employers with freelancers promises its clients a stable team of dedicated professionals.  They appear to work on a temp agency model but on a project basis, putting together teams of freelance app developers, designers and software engineers. It sounds like they get that freelance doesn't mean between jobs. Creating a real professional relationship with freelancers is key to mutual success in the gig economy.
17. Codeable

Handpicked WordPress developers
Codeable is even more niche than many of sites for freelance developers listed above. They specialize in WordPress development projects in particular. They claim a 2 percent acceptance rate for their applicants and therefore promise high quality to clients. Freelancers review projects and offer quotes, and Codeable adds 15 percent on top of that fee to the customer.
18. Gigster

Liquid talent for custom software solutions
Gigster provides a range of talent management solutions to companies needing software development. Those services include innovation, design, development, prototyping and maintenance, and they particularly emphasize AI applications.
And how does Gigster provide these software services? That's where freelance developers, designers and product managers like you come in. This a website for freelancers that works more like a traditional temp agency than a marketplace. You apply for positions at Gigster, and they deploy you on temporary jobs with a team of other freelancers. Gigster claims to take only .5 percent of applicants.
19. Hired

Contract positions or jobs
If you think of Hired as just another job board for the nine-to-five crowd, take another look. A couple years ago, they realized the market opportunity in matching employers with gig workers and built out the platform to include freelancers and side hustlers. They must be seeing the same gig economy data that we are: Around 11 percent of all knowledge workers are full-time freelance; half of those won't go back to a role-based job at any price; another 22 percent of employees are gigging on the side.
As we've noted elsewhere, a talent strategy that doesn't account for the growth of freelancing is going to miss out on a lot of talent. It's terrific to see a "job board" that is helping companies with a more comprehensive approach to the talent marketplace.
The service that Hired offers is more hands-on than many freelance marketplaces and job boards with internal specialists helping to play matchmaker. The freelance jobs on Hired are mostly in tech and graphic design. Some of the specialist freelance jobs include AR/VR engineer, brand design, site reliability engineer, solutions architect, IT project manager and blockchain engineer.
Freelancing sites for writers, editors and translators
20. Scripted
 
The exclusive club (for writers)
You might be wondering: is there a Toptal for writers? Scripted is a newer talent market geared towards high-caliber writers of many specialties. The dynamics of web design and writing are different enough that making a direct parallel here between the two isn't quite on point, but Scripted does offer a very steady flow of available projects for many notable clients to the two percent of vetted writers that make their cut — much in the vein of Konsus' model mentioned above.
21. TextMaster

The everything-writing marketplace
Looking for something a little more open? TextMaster is a good place to explore, especially for translators and editors. The site uses a fixed price per-word model, and while there can be drawbacks to this, it does help insure that scammy flat-rate articles and lowest price bidders are kept at bay.
22. ServiceScape

On-demand content
Most of the freelance jobs on ServiceScape are predefined and built into the system to create a "click-to-buy" experience. That means less bidding and negotiating than on other freelance sites. Your freelance profile looks more like a storefront selling particular projects at set prices. This site is limited to writers, editors, translators and graphic designers. Their marketing to clients emphasizes academic work, so this might be a good site for freelancers who want to expand beyond the usual marketing content. One benefit to freelancers on this site is that the social sharing functions are designed to let clients promote you and your work in particular.
Freelancer websites for photographers and videographers
23. Skyword

The branded content hub (also for writers)
Skyword's unique angle on the freelance website niche is their focus on content marketing for noteworthy clients, including Fortune 1000 companies. They also work with an unusual talent pool — videographers and writers.
In spite of the impressive clientele and high earning potential for many of their gigs, the platform is not closed off to casual creatives who simply want to put themselves out there and explore the marketplace.
Once a freelancer has submitted a portfolio, Skyword's community management team assesses the work and recommends prime candidates for a second, more-thorough vetting process that unlocks more consistent work on the site and projects for Skyword's elite clients.
Needless to say — if you want to reap the maximum benefit of using Skyword, a top-notch portfolio is virtually a necessity.
24. SmartShoot

The camera and video marketplace
While killer photo and video work are more in demand than ever before, it can be mighty difficult to find work in the online realm. Very few freelance websites give honest consideration to these very hands-on disciplines.
Smartshoot specializes in this underdeveloped corner of the talent market. With no membership fees and ties to big brands like Yelp, Airbnb and Groupon, Smartshoot is a worthwhile resource for those of us who live our lives through the lens.
25. Swipecast

Fashion, photography, and forward-thinkers
If you're a fashion photographer, you know you're a different breed from your generalist peers. You need your own outlet to find the right clients and connections for your career.
The Swipecast app aims to service these unique needs for the freelance fashion photographer, model, hair stylist, and makeup artist. High-brow, risqué, and artistic are the house rules here.
Most users spend some time on the waiting list, but it's worth putting your name in the queue if this niche speaks to you. Swipecast charges a modest 10% commission fee.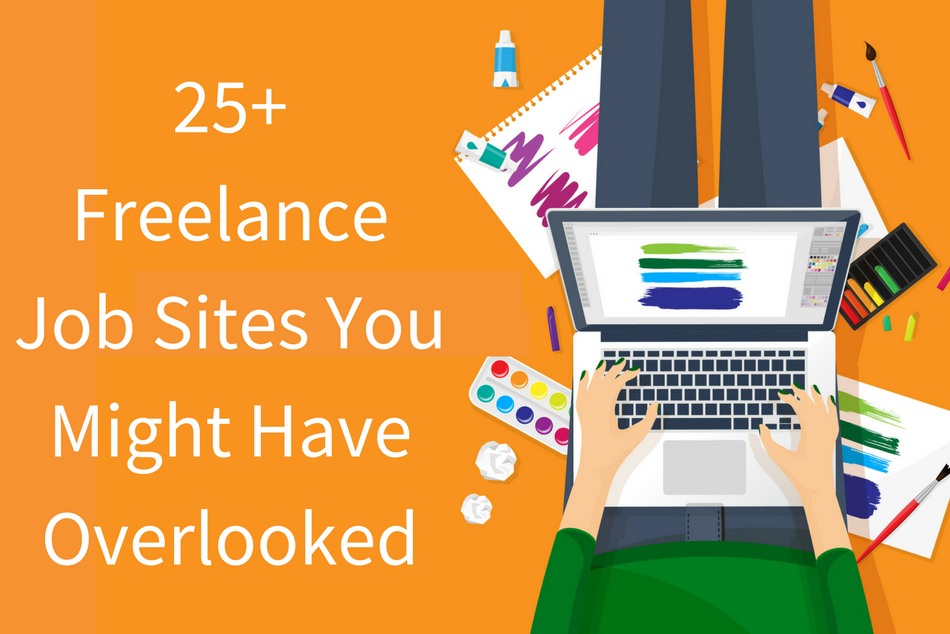 Miscellaneous freelance marketplaces
This list of freelancing sites is primarily focused on the creative and professional services part of the gig economy. Meanwhile the personal services part of the gig economy is growing. There are a lot of freelance marketplaces out there for that later group that we aren't really digging into — Uber, Taskrabbit and so on.
But there are a few interesting cases of so-called "gig economy websites" that overlap with this list of sites for professional freelancers.
26. Moonlighting

Side hustling encouraged
Moonlighting is an interesting platform because it has jobs in both those personal services and professional services categories — drivers, dog walking and fix-it services on the one hand and jobs for freelance designers, IT experts and marketers on the other hand.
Moonlighting is also interesting because it specifically pitches itself to people who are working on the side. It's "free for hobbyists" who use the platform only a little. Professional freelancers and small businesses pay on a membership model for $100 for six months of unlimited use rather than on a commission basis.
27. Domino

A freelancing site for hiring mutual friends
What makes Domino different from other websites for freelancers is that is designed to help you and your friends find work through one another by connecting your social networks. When someone is looking to hire a freelancer, Domino shows them who their own social media contacts have recommended.
Domino's marketplace is primarily made up of creatives such as freelance art directors, designers, developers, illustrators and film makers.
28. Field Engineer

Connecting telecom and technicians
Field Engineer matches business and technicians so that that our digital infrustracture can stay up and running.  This is a great example of how the gig economy is spreading vertically into other industries. Some of us are so used to working in the digital economy and with software companies, that we may forget that the gig economy touches the firmware too and that highly skilled technicians can be independent contractors.
This freelance website is for network engineers and architects, project managers, security engineers, voice engineers, wireless engineers, data center engineers and VMware engineers. Field Engineer works like most of the other freelance websites we've seen. Once an independent contractor is vetted, he or she bids on jobs and negotiates their own terms.
29.CookUnity

The chef's marketplace
Other freelance websites leaving you hungry? This might be the dish you've been looking for. CookUnity is one of the first of its kind — a platform that connects foodies with any number of restaurant-quality chefs who either want to pick up some work on the side or build a name for themselves independently.
You might think of this as the indi version of Blue Apron. People can join as either employed chefs or amateurs who "can cook amazing food." CookUnity takes a 15% commission on transactions.
The big ones (Freelancer sites you probably know)
When you think of freelance websites, these are probably the heavy-hitters that come to mind. Most of these marketplaces have been around for many years and have very active buyer and seller bases. There's a lot of competition, but also a lot of work to go around for freelancers that make the extra effort to stand out from the pack.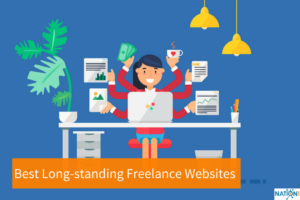 30. Upwork

The basic utilities
With over 10 million users, 3 million jobs posted annually and 1 billion dollars worth of work done each year, Upwork is one of the biggest freelance websites around. Users search for desirable gigs and bid on them with a competitive rate (paired with their qualifications, which potential clients assess). After a member secures and completes a job, Upwork takes its variable commission and the client pays the freelancer's hourly fee or project rate.
The site features an intuitive and well-organized user interface and communication system as well as a relatively high number of hourly gigs and various certification tests that are free to all users.
However, there are some limitations to Upwork as a free user, such as a finite number of application bids per month, which can be expanded via the $10 monthly fee. Customer service can also be somewhat slow when handling inquiries and there can be a bit of lag in their payment processing.
Be wary of, but do not get discouraged by, bottom-dweller clients looking to get hard work done for pennies on the dollar. Don't give them the time of day.
31. Freelancer

The á la carte menu
Freelancer is a longstanding and respected presence in the online project market, as well as one of Upwork's biggest competitors.
The veteran freelance board offers a wider resource base (15 million users, 7.4 million annual jobs, 2.2 billion dollars in work done yearly), but at a few costs. Freelancer is more limited in its free features than Upwork, and it offers users premium plans that range up to $199 annually. Despite its greater reach, there is also far more competition for jobs, with many independent workers competing from international territories.
Freelancer's commission sits at 10 percent.
32. Guru

The wise old sage
Here's another very solid platform that uses the familiar bid system. Guru is a bit smaller than the aforementioned job aggregators but still has a fairly high ratio of candidates to gigs — meaning quite a bit of competition.
While the site's job notification features and general ease of use are great, you might have to look a little harder to find the right gigs that really bring in the cash. Conversely, Guru's commission is below average and varies from 8.95% to 4.95% depending on the user's membership level.
33. Flexjobs
 
The pay-per-view option
Paying just to explore job listings leaves a bad taste in the mouths of many freelancers, but as far as monthly subscriptions go, Flexjobs can give you some significant bang for your buck.
Depending on your plan, the monthly cost can range from a high of $15, to a low of just $5 — if you take the yearly subscription. The average listing is higher quality than those on many comparable websites, and the robust search features let you preview the gig offerings before committing to a subscription.
One thing to keep in mind, however, is that not all listings on Flexjobs are telecommute. If this matters to you (it probably does if you're a 1099-er!), then make sure you specify this in your searches.
34. Speedlancer

The Uber of freelancing websites
In this case, the Speedlancer brand actually uses our description!
Speedlancer takes a lot of the time-consuming parts out of running a freelancing business by offering clients discrete services at predetermined rates. Speedlancer's unique hook is that their workers complete many of their services within just a few hours. The fast, streamlined system works well, but gives members limited control over their pricing.
35. PeoplePerHour

The packaged service
PeoplePerHour is a bit more traditional in its format — a huge lot of jobs are up for grabs across numerous professions and skill levels (entry level, intermediate, expert), and freelancers can pitch their rate and services to whomever they please. Pitches are generally limited to 15 a month, with freemium credits available for purchase.
"Hourlies" are where things really get interesting, though. You can think of these as packaged services much like those sold on Fiver, except you can promote them to a client base that will be open to paying you a lot more than five-bucks a pop.
The commission rate comes in at an agreeable 15%.
Get out there!
Phew! Quite a few freelance marketplaces out there, aren't there?
If you've been put off of freelance websites by the massive scale, rigid rules, or intense competition many of them have, give some of the new options above a shot and let us know what you think of them!
Do you have a favorite freelance website we missed, or an experience with one that you would like to share? Let us know in the comments below!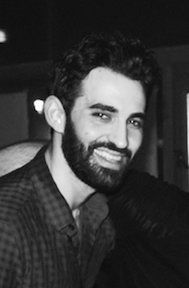 Ben Shanbrom is a freelance writer, musician and copy editor who works with artists and clients in his native New Haven scene and beyond.