This page is a running thread of gig economy news, in chronological order, newest at the top.
Topics we're tracking include:
industry news about freelancing
regulation
new products and services
This page is also a trend watch that includes early signs about what is coming in the gig economy and the changing freelance workforce.
Sign up for our newsletter for occasional digests of the most recent items sent to your inbox.
---
Vendors and other companies, see the note at the bottom of the page about submitting your gig economy news.
---
Gig economy news
New banking platform for freelancers – Azlo, an online bank and financial services company that is specifically marketing to freelancers and the self-employed, went live today. Part of their pitch is no minimum balances and no fees, including for ACH, international transactions and foreign ATMs. It also has invoicing tools built in and integrations with Stripe and Square. -2/15/18
Gigging as career opportunities for the economically displaced – A charity in Germany is developing a program that matches people in severe economic need — refugees — with the opportunities created by remote and flexible work in the freelance economy. Project CORE from the International Rescue Committee, with funding support from the Intel Foundation, trains people resettled in Germany in computer programming. "Having strong computer skills means that refugees who have other commitments at home or need flexible hours can join international companies or the gig economy," according to a profile in Fast Company. -2/14/18
MBA classes for freelancers – Here's another in the trend of university-level courses for career freelancing that we're watching. A Babson College MBA adjunct instructor has been running a course on Entrepreneurship and the Gig Economy. Diane Mulcahy says shes "spends much of the class questioning students' typical ideas of job security and stability, talking with them about what the gig economy means for their careers and planning how they can best set themselves up for a thriving career as a freelancer," according to a profile in Poets & Quants for Undergrads. -2/13/18
Community workshops for freelancers – The Carnegie Library of Pittsburgh is holding a "side hustle lecture series" during February for people who want to learn more about consulting or other gig economy work.
Gig economy data forum – The Aspen Institute Future of Work Initiative, The Cornell University School of Industrial and Labor Relations and the Rockefeller Foundation convened a round table of experts to discuss challenges collecting data and statistics about the gig economy. As we've noted in our own roundup of gig economy data, one of those challenges is the variable definitions of contingent, temp, gig, freelance, consultant and independent contractor. Aspen also has a data hub project on the gig economy that is expected to be live early this year. -2/12/18
New gig worker rights regulations in the U.K. – The Business Secretary's office of the U.K. government has announced a package of administrative reforms to reinforce the rights of gig economy workers related to overtime, holiday pay and sick pay.  -2/7/18
Retirement benefits for freelancers – The U.S. Senate Health, Education, Labor and Pensions Committee's subpanel on primary health and retirement security held a hearing Feb. 6 on ways to extend retirement benefits to independent contractors. Some of the ideas presented in expert testimony included rules to let companies extend benefits to a broader group beyond their employees, expanding Social Security, and multi-employer plans that let employees maintain one plan between employers. (via Kaitlin Milliken at The Hill.)
My take: Two of those ideas presume an employer/employee model and try to adapt it to this new context. Don't forget that many freelancers get their gigs peer-to-peer from other individuals who won't have retirement plans to extend, and don't forget that many people in Nation1099 are "freelance native." They don't have old retirement plans to port anywhere else. Also, ahem, SEP-IRAs. Better consumer awareness about that existing option would go a long way.
Women earn less on driving apps – Economics researchers at Stanford have dug into driver-side user data from Uber and have drawn some interesting conclusions about the seven cent pay gap between men and women. Short version: men rack up more experience and therefore learn to optimize how they use the platform, cherry picking the best working hours and locations. Also they drive faster and therefore pick up more fares.
Coworking spaces are market movers in London real estate – Cushman Wakefield has a new study of the impact of coworking on the U.K. real estate market. In central London, flexible work spaces occupy 4 percent of the office space stock, doubling in the last 1o years. One of the structural changes driving this is the growth of freelancing. They also note a growth in hybrid models that blend shared/unallocated space formats with traditional serviced office formats. -2/6/18
Another college program on building freelance career skills – A business department instructor at Sierra College in Rocklin, California organized a half-day workshop for people interested in developing career skills needed in the freelance economy, such as marketing, tax deductions and defining a scope of work.  Professor Natasha Palumbo says the 20-student pilot is also providing ongoing mentorship and networking through the rest of the academic semester. (See College of Marin below for a similar example.) -2/5/18
Related reading: How to Write an Effective Freelance Scope of Work
Uber for going to the office – A Sony-affiliated virtual reality researcher in Japan demonstrated his invention called "Chameleon Mask," or human Uber, which allows you to hire a surrogate who wears a screen displaying your face on their face so you can attend meetings remotely. -2/1/18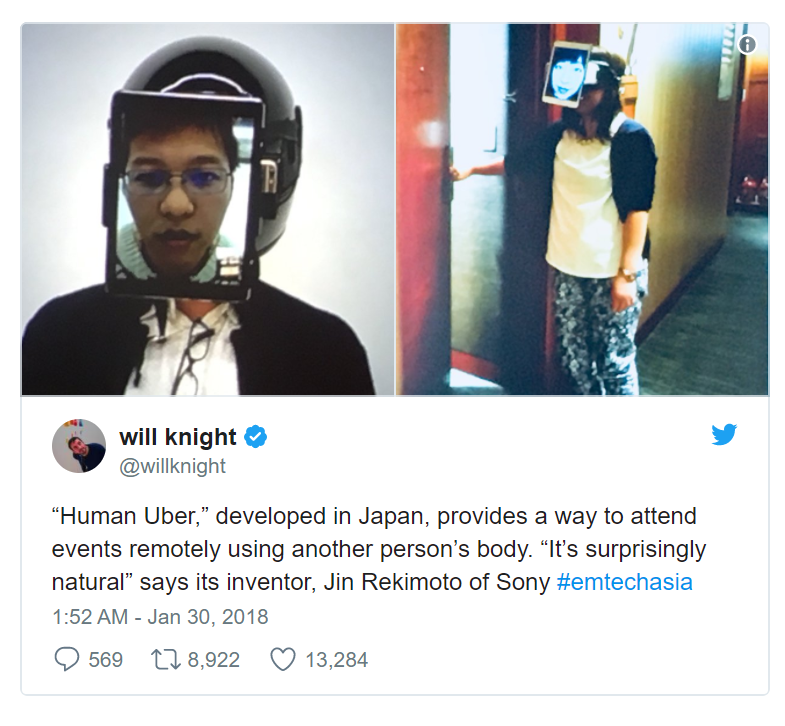 Employee classification – Uber gets a ruling in its favor in South Africa on the classification issue, according to Uber.
Smart contracts (and maybe tokens) for freelancers – The founders of Eathernal announce the launch of their peer-to-peer network designed for freelancers that attempts to improve trust and payment issues using smart contracts. The company is being partly funded by an initial coin offering. I get that. I don't understand yet how the tokens then are used in the network. (Hey, Eathernal team. Get in touch and explain it to me.) – 1/31/18
Fintech startups are developing products for the freelance market.  Two announcements in one day on this topic. Zayzoon and PUSH Payments announced a partnership to create a real-time "payroll" service that employers can extend to both their W-2s and their independent contractors. Think of it as on-demand pay for on-demand work. -1/30/18
Payfare and i2c are launching a payments service for gig economy workers. It seems to be targeting ride-sharing companies and lets them load payments for drivers onto prepaid cards.
Fintech incumbents too! Mastercard announced a new suite of products and other activities that touch on gig work. They have some real-time payment projects with individual companies, and they are running financial literacy workshops in some communities particularly for gig workers.
Reputation management for freelancers – Blockchain technology is starting to be applied coming to reputation management for freelancers. FundRequest has announced a partnership with Dock.io and Remote.com that will allow users of that freelance platform, particularly freelance developers, to validate their skills to prospective clients using the advantages of a distributed ledger. -1/29/18
The portable benefits movement – At least one local leader is working with ride-sharing companies to grow the portable benefits movement. SEIU 775 (Seattle area) President David Rolf has signed a letter with Uber and its funders in support of a Washington state bill that would require businesses to extend employee benefits to independent contractors. Via Seattle's The Stranger – 1/26/18
New freelance marketplace –  Spry is a new app-based platform matching PR freelance talent with on-demand basic assignments that launched today. The emphasis is on basic jobs and small budgets. iOS only for now, Android to come. -1/25/18
Legislation for freelancers – Congresswoman Eleanor Holmes Norton (D-DC) says she will introduce a bill to apply federal anti-discrimination protections to independent contractors.  -1/24/18
How marketers see freelancers – TaxAct, a competitor to online tax prep companies like TurboTax and H&R Block, is starting a series of ads particularly emphasizing gig economy workers.
New talent management software – ADP, the HR software company that you may know best for its payroll management services from your 9-5 days, has acquired WorkMarket, a software company that integrates the management of W-2 and 1099 workers. -1/22/18
What's next? A college major in freelancing? The College of Marin in Marin County, California is offering a three-course professional certificate for freelancers. The "Gig Economy Career Pathway" includes business courses on entrepreneurship, marketing and self-employment strategies. – 1/17/18
Retirement accounts for freelancers – In Great Britain, the Pension Advisory Service is launching a campaign to raise awareness about retirement savings among freelance professionals, gig economy workers and the self employed. The campaign is intended to address comparatively low participation in retirement plans among freelancers versus traditional employees.
Related reading: The SEP-IRA explained — Retirement Planning For the SoloPrenueur
---
Does your organization have gig economy news or announcements of interest to freelancers, consultants and independent contractors. No promises, but I'll consider including new announcements on issues like those covered above. I strongly prefer having a URL to link to (i.e. PDFs aren't that helpful except for fuller context), so send me the address to where your press release can be found or, even better, to where an authoritative independent journalistic source has written about this subject recently. We do consider guest posts from companies serving freelancers.